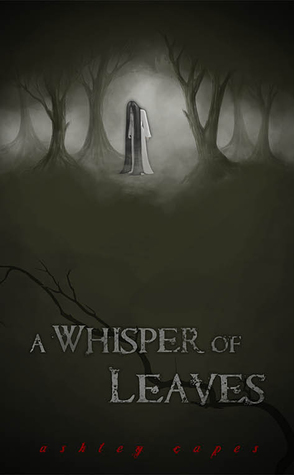 A Whisper of Leaves by Ashley Capes
RaeleighReads rating: 3.5 out of 5 coffee cups
"Riko was collecting strands of straw, but barely a handful did not make a scarecrow. No one was getting to Oz with that."
I received a copy of this novella in exchange for an honest review.
This is a good paranormal mystery novella. The writing flows smoothly, there are delightful poems that add a little something extra to the prose, and the characters are mostly well-developed and relatable.
A Whisper of Leaves follows the story of Riko, a female of Japanese descent who grew up in Australia but is trying to make a living as an ESL teacher in Japan. She discovers an old journal while hiking with her friend Kiyomi. What unfolds is a mysterious ghost story that will end in a battle for both their lives.
Where this novella excelled was in setting up the suspense. The tension builds very nicely through the first section and I literally had goosebumps when some of the supernatural events began to unfold. It made me very glad that I was reading in broad daylight.
Unfortunately, after that great build up, I was a little let down when all of the action came to a head. Perhaps if more time had been spent on the climax and subsequent wind-down I would have been more satisfied. As it is, I was left wanting more. Hence the 3.5 coffee cups.
I don't know very much about Japanese culture, but this novella was a nice introduction to some of those elements. It had a nice blend of traditional Japanese culture and religion and a very modern story line and characters. I really did enjoy it and I think many readers of fantasy, mystery, and paranormal suspense will find this enjoyable as well.
Some other opinions you may find useful:
"A Whisper of Leaves by Ashley Capes is a beautiful, mysterious ghost story that will take you on an intriguing escape."– Aderyn on Amazon
"This is an excellent ghost story in the tradition of Miyazaki's Spirited Away. It had the perfect combination of suspense, creepiness, and mystery, without being gory or horrifying."– Aurelia Maria Casey on Amazon
Some additional opinions you may find helpful:
"Very well written, beautiful descriptions of what to me was the infamous Suicide Forest in JAPAN. Spooky and elegantly told."– Kimmy Yates on Goodreads
"Capes has crafted a unique story with just enough genre tropes mixed in to keep fans of Japanese horror turning the pages."– H. Roberts on Goodreads