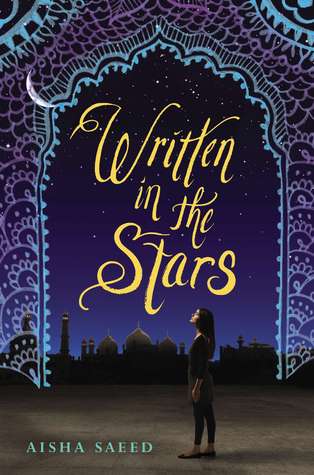 Written in the Stars by Aisha Saeed
RaeleighReads rating:
"My mother always says when you fight destiny, destiny fights back. Some things, they're just written in the stars. You can try but you can never escape what's meant to be."
If you saw my initial Goodreads post, you know I had an immediate, slightly negative reaction to this book. Since then I've had a very difficult time forcing myself to sit down and write about this thing.
Written in the Stars is about a Pakistani girl named Naila. She grew up in Florida with her mother, father, and younger brother. She was all set to graduate high school, go on to college with her friends, and become a doctor. But, as so often happens, a boy got in the way of all that. Saif was also Pakistani, but his family was not respected by the other Pakistani families in their Florida community, so it was NOT okay for Naila to be dating him. Whoops! Now, when her parents found out, they didn't ground her or forbid her to date him. Nope. They shamed her like you wouldn't believe then packed the whole family up for a vacation to Pakistan. What happened after that you'll have to read for yourself. I'll just say, I yelled at the book for the last 75%. Literally. Yelled. I think I may have woken up my neighbors. I live in a house — not an apartment (just to give you an idea of the volume).
I found the content of this book appalling. The culture described is completely foreign to me, and I have to say, I didn't find anything redeemable in it. Pretty clothes and jewelry aside, there was not much beauty to be found in this way of life. I thought I was going to be able to find some redemption in the bonds of family, but this poor girl's family was so fake. (Spoiler ahead!) What kind of people say they love you and laugh and dote on you one minute then turn around and confine you, drug you, and force you to marry someone against your will the next? (End spoiler.) It's disgusting, frankly.
Now, I know I'm approaching this book from a Western, American perspective. On top of that I am a feminist. Every atom in my body was repelled by this text. It is my very negative reaction to the content that lowered the coffee cup rating on this novel. Perhaps that's not fair. It is well written, if bland. The characters are well-developed, if abhorrent. There are certainly lessons to be gleaned here from whomever reads it, but I just really hated it.
Gah, you should probably read it anyway. If only to experience a small part of another culture.