Sorry for the late posting! I've been out of the country on a cruise (no WiFi). 😀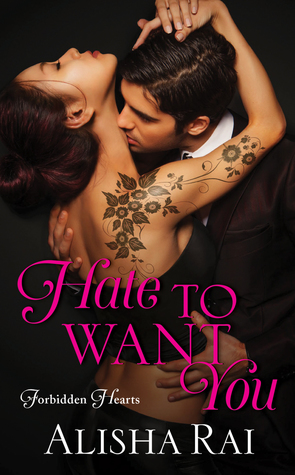 Hate to Want You by Alisha Rai
RaeleighReads rating: 
One night. No one will know. Those were the rules.
Hate to Want You has a Romeo and Juliet feel, but with a very modern, exes with benefits, twist.
Two lovers — Livvy (Olivia) Kane and Nicholas (Nico) Chandler — were hot and heavy in their late teens/early twenties, but they were torn apart by their families. The Chandlers and the Kanes had been business partners before two deaths and a shady business deal turned them into enemies, effectively ending the relationship between Livvy and Nicholas. For the next ten years, the two would meet for a single night of unbridled passion. But when Livvy moves back home to care for her mother, their carefully honed pattern is ripped to shreds.
This is the first book in Alisha Rai's Forbidden Hearts series, and I have to say, Rai has made me re-think my stance on romance novels. Her focus remains on the action of the novel, which you guys know I love, and the steamy, heat-your-cheeks scenes are like icing — they enhance the already delectable story taking place.
I CANNOT stand bodice rippers. Those stale, reusable plots? Ick. Now, this plot is not ground-breaking, or new per se, but I really enjoyed reading it (in only two days!).
I will definitely be checking out the rest of the Forbidden Hearts series, and you should too! IF you like family drama, steamy romance, a hint of chaos, and characters who grow. Probably NOT IF you are at all prudish or dislike tattoos.
If taking part in Read Harder 2018, this checks off #10, a romance novel by or about a person of color, and it could also check off #15, a one-sitting book.
Read Harder stats: 1/24