Hope by Grier Cooper
RaeleighReads rating: 
Dudes! Two romantic books back-to-back! What even is my life right now?
Okay, it's not really a romance like Hate to Want You, but the main character's feelings do get put through the wringer when a fellow dancer seems to be interested in her. She starts to like him back, and it seems like they may be starting a relationship, but then…maybe not? And this does-he or doesn't-he nonsense is really the last thing she needs.
Hope is about the lives of teenage dancers, ballet (obvs), and pushing yourself to be your best you, while still being a decent human being to those around you. Indigo is the main character, a teenager who struggled very hard to gain her spot at the New York School of Ballet. This school is just a stepping stone on her way to becoming a professional dancer. Following are her thoughts at the beginning of Hope.
Here's what I've realized in the one hundred and fifty-one days since I first arrived at the New York School of Ballet:  Every second counts. It isn't enough to work hard and sweat; there has to be something more. Each moment is a new chance to reach just a little further, move one step closer to perfection.
Indigo and her group of friends struggle to maintain the balance between dance classes, high school classes, friendships, and boys. Felipe is the foreign, and super sexy, boy who seems to like Indigo, and then maybe he doesn't, and then he definitely does, and then he doesn't again. C'mon boy! Make up your mind!!!! Pauvre Indigo. 😦 At least he's a first-rate pas de deux partner!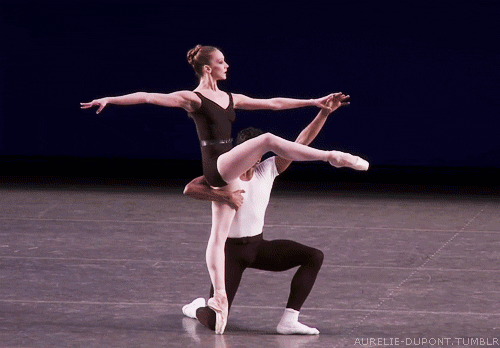 Anyways, these professional teenagers are under a huge amount of pressure. Their ultimate goal: to get a job dancing for a good company. Remarkably, most of them make it to the final performance, the workshop they've all been busting their buns (pun intended) to be cast in, without completely falling apart.
I really enjoyed reading Hope. It is the second book in Grier Cooper's Indigo Dreams series. I didn't read the first book, Wish, but I felt okay going into book two without much background information. Currently, Cooper does not have a book three. I really, really hope that she plans to write one!!!! Hope ends well enough, but I want to know what's next for Indigo. Does she get a job? Does she tank the workshop and have to find an alternate career? I NEED TO KNOW.
I would recommend this book to those who enjoy YA fiction, stories about ballet (obvi), stories about friendship, and stories about going for your dreams. I will definitely be seeking out the rest of the series. I just cannot resist a well-told story about ballet and dancing. Who am I kidding, I can't resist anything ballet! Pretty sure my patronus is toe-shoes. 😉
I received a copy of this novel in exchange for an honest review.