Books Read in May 2019
Wow! May was a busy, busy month!
Genres read:  high fantasy, erotica, young adult fantasy, contemporary, regency romance.
Kingdom of Ash by Sarah J. Maas
The epic finale to the Throne of Glass series.
Summary:  Aelin has risked everything to save her people―but at a tremendous cost. Locked within an iron coffin by the Queen of the Fae, Aelin must draw upon her fiery will as she endures months of torture. Aware that yielding to Maeve will doom those she loves keeps her from breaking, though her resolve begins to unravel with each passing day…

With Aelin captured, Aedion and Lysandra remain the last line of defense to protect Terrasen from utter destruction. Yet they soon realize that the many allies they've gathered to battle Erawan's hordes might not be enough to save them. Scattered across the continent and racing against time, Chaol, Manon, and Dorian are forced to forge their own paths to meet their fates. Hanging in the balance is any hope of salvation―and a better world.

And across the sea, his companions unwavering beside him, Rowan hunts to find his captured wife and queen―before she is lost to him forever.

As the threads of fate weave together at last, all must fight, if they are to have a chance at a future. Some bonds will grow even deeper, while others will be severed forever in the explosive final chapter of the Throne of Glass series.
Claiming His Mountain Bride by Madison Faye
Pure. Smut. Honestly, there's not even much story to this one, but if you're looking for a raunchy (if somewhat repetetive) read, this is for you! And at only $1 on Amazon, it's totally worth it!*
Summary: My mountain. My cabin. My rules. And she's my woman – she just doesn't know it yet.

I left civilization and my demons a long time ago, seeking solitude up on Blackthorn Mountain. Just one ex-Marine, a remote cabin, and the wilderness, with no distractions.

But then she turns up, blowing in with a winter's blizzard like a very f**king big distraction.

Blonde, beautiful, and mouthy as all hell, even when I save her from freezing that sweet little butt off.

A rough mountain man like me should want nothing to do with a rich city girl like Katrina. Except one look at her sweet, tempting curves, and one taste of those sassy, pouty lips, and I want everything to do with her.

I saved her from freezing, but maybe it's her who's going to save my frozen heart.

We're trapped up here for the storm, locked in a cabin with only the heat between us to keep us warm. Her wealthy, city family thinks they can marry her off to some rich little sh*t. But they're very wrong.

My mountain. My cabin. My woman.

I'll make Katrina my bride, and I'll be d*mned if I let them take her from me.
Harry Potter and the Chamber of Secrets (#2) by J.K. Rowling
I began a nostalgic re-read of this beloved series this year. It's certainly a different experience from reading it when I was a kid. 🙂
Summary:  The Dursleys were so mean and hideous that summer that all Harry Potter wanted was to get back to the Hogwarts School for Witchcraft and Wizardry. But just as he's packing his bags, Harry receives a warning from a strange, impish creature named Dobby who says that if Harry Potter returns to Hogwarts, disaster will strike

And strike it does. For in Harry's second year at Hogwarts, fresh torments and horrors arise, including an outrageously stuck-up new professor, Gilderoy Lockhart, a spirit named Moaning Myrtle who haunts the girls' bathroom, and the unwanted attentions of Ron Weasley's younger sister, Ginny.

But each of these seem minor annoyances when the real trouble begins, and someone — or something — starts turning Hogwarts students to stone. Could it be Draco Malfoy, a more poisonous rival than ever? Could it possibly be Hagrid, whose mysterious past is finally told? Or could it be the one everyone at Hogwarts most suspects . . . Harry Potter himself?
The Night I Lost My Father's Gun by Azmi Abusam
Disclosure: I was paid for my review of this book. All thoughts are my own.
Summary:  Elon X has been caught all his life. Caught in a claustrophobic little corner of Washington D.C. Caught in the shadow that only an accomplished older sister can cast. Even his well-meaning parents pull at him. His absent father had seen a place for righteous violence when he named Elon after Malcolm X, while his mother quotes Reverend King even from the depths of her alcoholism.

Dreams of professional basketball help drag Elon through drab days, but those dreams end when he's expelled. His mother starts using words like "military school" and "Montana"–not exactly the escape Elon had in mind. Before he's banished to the Rockies, he needs a getaway of his own making.

Just for a night.

That getaway won't include a tame dinner date with his patient girlfriend. He seeks the delights of a rough teenage underground, where rumors mean gang trouble and a secret crush makes thrilling promises. Come along to Sophisticated Ignorance, she whispers–a notorious house party alive with hedonism and violence.

Just for a night.

His mom's Impala isn't the only thing Elon steals. He heads to a secluded Maryland mansion with his best friends and his father's .38. When the gun goes missing, he knows he's in trouble. And when that gun is used in a double murder, he'll know what it's like to be truly trapped.

Maybe for the rest of his life.
Waking Up with a Rake (The Royal Rakes #1) by Connie Mason & Mia Marlowe
Based on the real event, The Hymen Race Terrific. Regency romance + devilish rakes = sizzling read. Book 1 of 3 in the series. Rhys & Olivia.
Summary:  To prevent three royal dukes from marrying their way onto the throne, heroic, selfless agents for the crown will be dispatched…to seduce the dukes' intended brides. These wickedly debauched rakes will rumple sheets and cause a scandal. But they just might fall into their own trap…

After he's blamed for a botched assignment during war, former cavalry officer Rhys Warrick turns his back on "honor." He spends his nights in brothels doing his best to live down to the expectations of his disapproving family. But one last mission could restore the reputation he's so thoroughly sullied. All he has to do is seduce and ruin Miss Olivia Symon and his military record will be cleared. For a man with Rhys's reputation, ravishing the delectably innocent miss should be easy. But Olivia's honesty and bold curiosity stir more than Rhys's desire. Suddenly the heart he thought he left on the battlefield is about to surrender…
One Night with a Rake (The Royal Rakes #2) by Connie Mason & Mia Marlowe
Based on the real event, The Hymen Race Terrific. Regency romance + devilish rakes = sizzling read. Book 2 of 3 in the series. Nate & Georgette.
Summary: For King and Country, Three Notorious Rakes Will Put All Their Seductive Skills to Work.

After All, The Fate of England's Monarchy is in Their Hands.

Since the death of his fiancée, Nathaniel Colton's polished boots have rested beneath the beds of countless wayward wives and widows of the ton. He's careful to leave each lady smiling, and equally careful to guard his heart. So seducing Lady Georgette should pose no problem. But the beautiful reformist is no easy conquest, and Nate's considerable charm fails to entice Georgette to his bed. To woo her, Nate will have to make her believe he cares about someone besides himself–and no one is more surprised than Nate when he realizes he actually does.
Between a Rake and a Hard Place (The Royal Rakes #3) by Connie Mason & Mia Marlowe
Based on the real event, The Hymen Race Terrific. Regency romance + devilish rakes = sizzling read. Book 3 of 3 in the series. Jonah & Serena.
Summary:  When a royal's intended bride is kidnapped, only a rake can set things right…

Wealthy heiress Serena Osborne feels like her father is determined to sacrifice her on the marriage altar. The Duke of Kent is negotiating for a bride, and the wickedly appealing Sir Jonah Sharp is sent to woo the Lady Serena on the Duke's behalf. It only muddies the waters when she succumbs to Jonah's charm. Repeatedly. But Jonah has a secret agenda—to prevent the marriage at any cost.

When Serena is kidnapped in a desperate attempt to force the royal betrothal, Jonah realizes his new agenda is to secure a bride—for himself.
A new edition of Settle Down Now by Leenna Naidoo was re-released in February of this year. Check it out!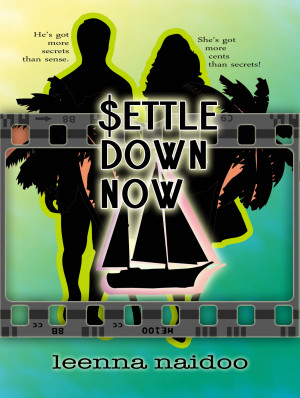 Summary: He has secrets. She has cents.
Billionaire Charmaine Donnet's search for Mr Right goes public in the most humiliating way. Her dating coach, and trusted friend Joss, has turned introvert Charmaine's quest into a hit reality TV show. Events take a dark turn when one of the potential Mr Rights goes missing at sea. Charmaine is not sure she will survive this desperate Hart's cruise.